*Post contains affiliate links*
A holiday with your family means that we may be doing a little more overtime this weekend just to be able to afford the trip, right?
What if I told you that that you can get the cheap flights to Bali and affordable accommodation for the whole family?  I know what you're thinking.  This sounds too good to be true? Well pack a bag for the kids because after researching accommodation for my own family holiday I thought I would share with you what I have found.
The trick to finding a cheap stay is to search by affordability, not location.  When you search in the most common areas of Bali you will be bound to find a higher priced booking in the midst of a busy lifestyle stay. If you're interested in the more cultural experience you will likely find something special for your family that suits your budget away from the Bali hotspots.  Don't worry, staying amongst the rice paddies and jungle backdrop, will still make an amazing family holiday, if not, better.
We've done the searching and here are 5 stays for a family of 4 under $100AUD a night just to get you inspired; that we have found on AirBnB. 
SURROUNDED BY RICE PADDIES 

Your family will enjoy this family suite situated just 3 minutes drive from the centre of Ubud.  The property is close to town and close to nature.  With breakfast daily and housekeeping this will impress your family.  Sleeps 4 guests with 2 bathrooms.
Description from airbnb listing:
"Welcome home far away home 🙂 This house is combination of new and traditional concepts in harmony with nature. It's suit for family or group who's seeking for countryside tranquility with private garden and private pool and rice paddies view. Hidden among the lush quiet, tranquil location on the edge of Ubud. Among thriving rice fields as far as the eye can see."
3. A Villa in Sanur
This villa in Sanur will make you feel like royalty with all the modern perks.  A short 15 minute walk to the beach.  The whole family will leave Bali feeling relaxed and like most wanderlust travellers you will most likely be booking your next trip before you leave.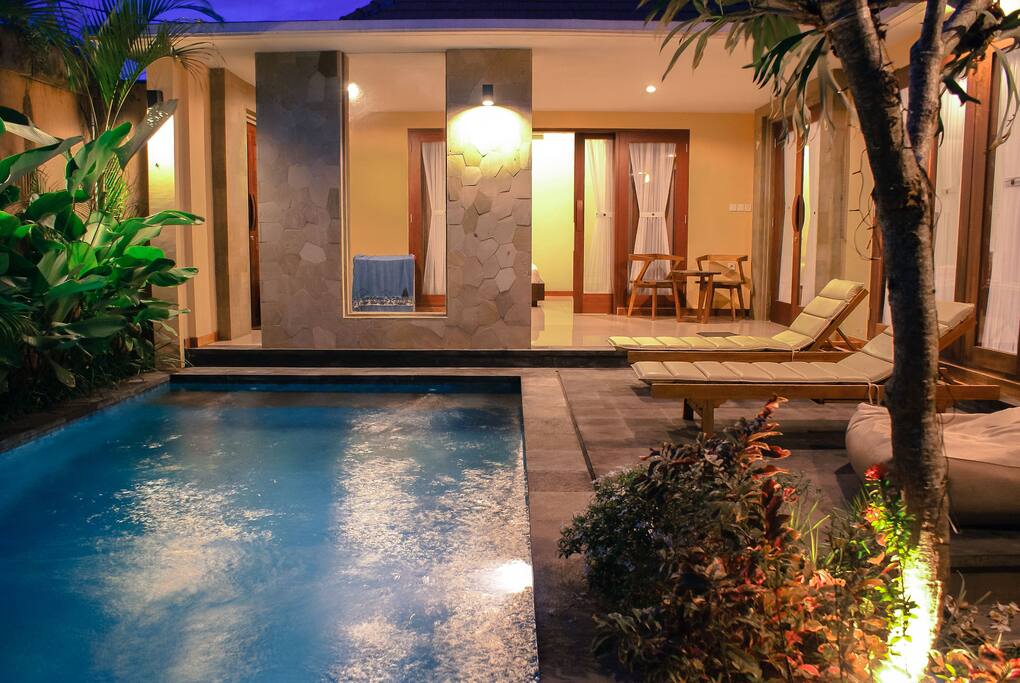 Description from airbnb listing:
"Our villa is a recent villa with a modern design. Guests will have an access to the living room, kitchen, pool, extra toilet. We propose also some equipments : TV, apple Tv, Hi-fi sound-system, Wifi, fresh water fountain and a large movie library. The villa is close the beach, at 15min walk and 3 min by scooter. We can arrange you for rent scooter, car, transport and give you the best advices for your vacation. All the villa has air-conditioning and a cleaning service everyday."
4. Sanur Beach House
If rice paddies aren't your thing then enjoy the pleasures of this newly renovated beach house just a short walk away from the beach with the luxury of the local shops close by as well.  Book into a local yoga retreat or discover your adventurous side and book your family into some watersports.  All of which are just a short walk from your beach house.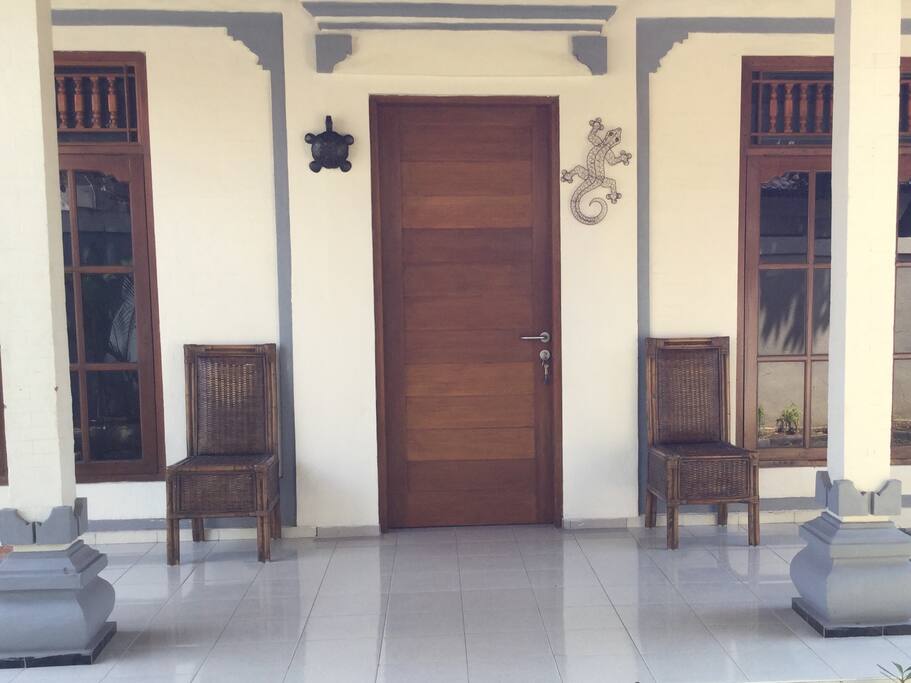 Description from airbnb listing:
"Two bedrooms both with queen size beds, each with its own large bathroom. Fully equipped throughout including linen, towels etc. TV/DVD in lounge room, equipped kitchen. Lovely tropical garden. Short walk to beautiful Sanur beach. Serviced daily. Beach side of bypass, close to shops, bars, restaurants. Quiet street."
5. Luxury Villa in Ubud
A two bedroom villa in Ubud with your own private pool is something all families and you will fall in love with this one if you haven't picked your favourite yet.  Relax by the pool and soak up the atmosphere with a tranquil view of the jungle.  Located a short 5 minute scooter ride or 20 minute walk from central Ubud.
Description from airbnb listing:
"The villa Sun is located close to central Ubud, but aside from big street. This is a very quiet and peaceful new-build villa with spacious territory, 3 lovely green lawns, the private pool and amazing view at the jungle. The land are fenced and safety. There are 2 rooms with solid Balinese furniture and sense of style. Our villa will be the perfect solution for those, who want to stay close to nature and feel a vibe of Balinese culture, but got used to standards and style of 4-stars hotel."
Rice Paddies or Beach Villa?
Of course there is so much more available and here we have just given you a few ideas to get you started in your search.  Once you do start your search for the perfect villa for your family you will become excited with just how much there actually is that is affordable.  There is something for every budget and if you haven't booked your stay in Bali yet; what are you waiting for?  Get excited.  Get adventurous. Get relaxed.
Book your Bali holiday!
(Note: based on 2 adults 2 children for 7 nights)
♡Mrs Bleakley